Take a wild guess what's happening here?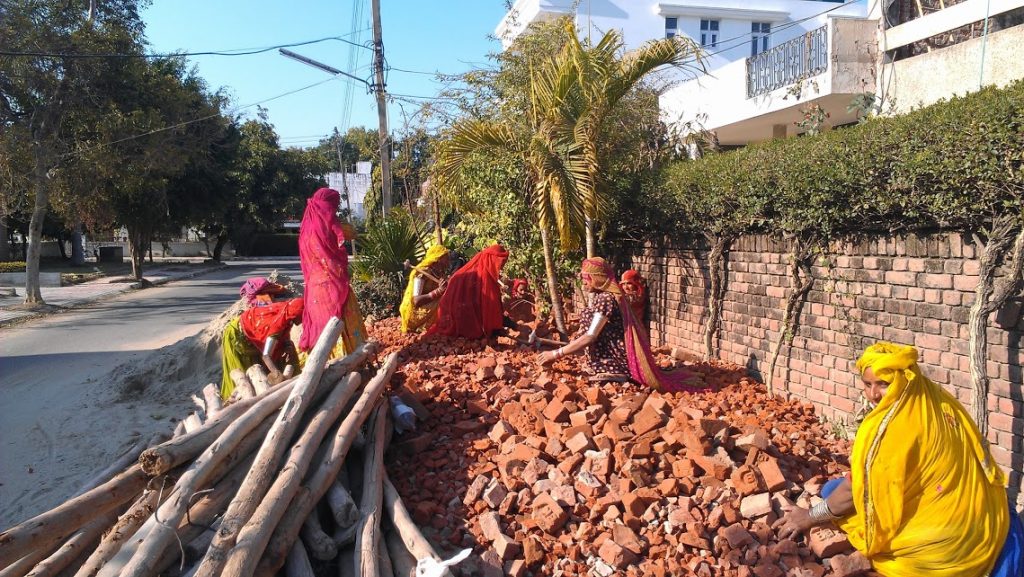 A) A group of woman were taking an afternoon walk when all of a sudden a diamond engagement ring flew off the hand of the woman dressed in yellow and all of her friends, aghast, offered to help find it.
B) Three generations of woman are preparing a massive bonfire for an upcoming wedding.
C)  This is an outake from a Bollywood hit film where everyone is dancing their booty off, upon hot coals.
D) Village woman have come to the city to help on a construction site. Their task is to crush thousands of bricks with sledgehammers which will then be used as part of a floor system.
Wait for it…..
wait….
D it is!
And this is how we do it in the Pacific Northwest (along with most of the rest of the US). The differences are incongruous to each other but entirely rational when set within their geographic context.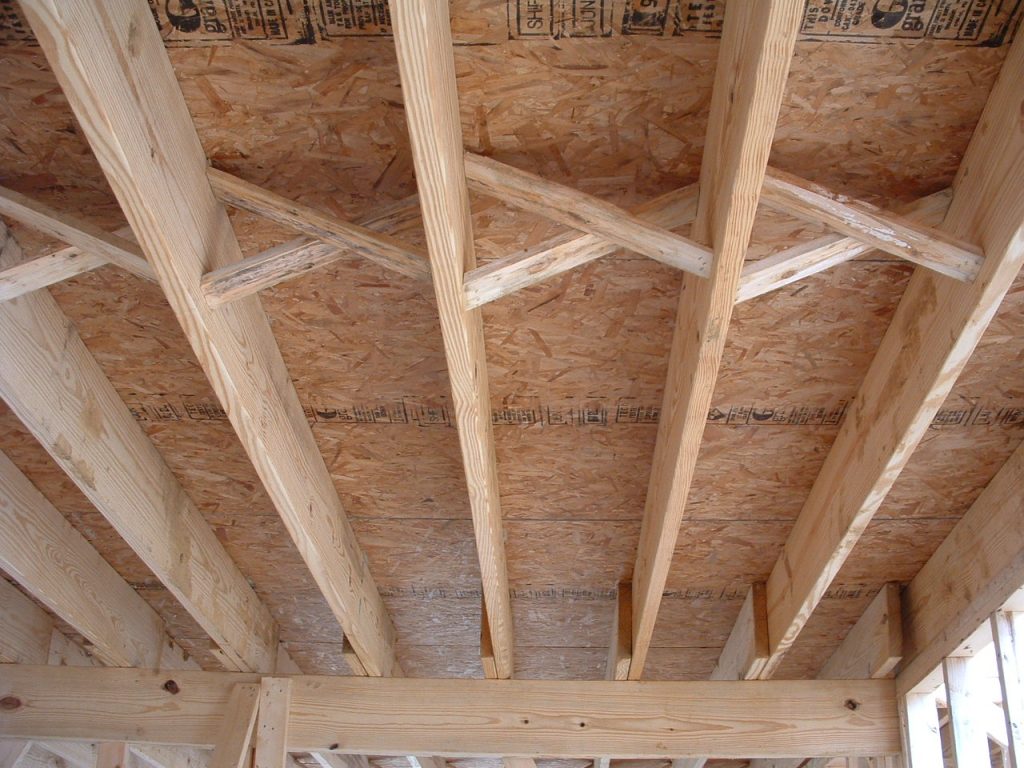 In 2012 vergeAD designed and had built a two story addition to a single family house in Chandigarh, India. Three apartments were created, with one being occupied by the offices of the AP Foundation, a non-profit organization dedicated to supporting research and teaching of the built environment in India.
There are endless tales to tell from this design/build experience, some mind blowing, some total head-scratchers, some "the West has a few things to learn" moments, and some "that is crazy dangerous". Here is the first chapter in the tale…
We build the way we build in the PNW because wood is abundant, our climate is mild and labor is expensive. Although wood isn't scarce in the mountains of northern India (Chandigarh lies in the shadows of the Himalayas), farmed forests have not caught on, the Indian climate is harsh and the abundant UV is crippling for even the most protected piece of wood. Concrete and brick are the traditional building materials throughout India, made affordable by the less-than-minimum-wage earned by skilled and unskilled labor alike.
The result can be stunning. Take something as simple as a floor assembly. After the brick chips are laid on the concrete slab, trenches are made for sewer lines and electrical conduit. The brick chips create the plenum. After the infrastructure is set, a thick bed of mortar is troweled on to level out the rough brick layer. Then tile or slab are set in place. In our case we used yellow sandstone slabs from Jaisalmer, India. The stones were cut to size on site for the interior floors and then the left over pieces were made smaller and used in a mosaic pattern. Then the smallest remaining chips were thrown into the grout, creating a beautiful terrazzo/mosaic combination, known locally as "crazy" or "clajy" tile. There was not one ounce of waste.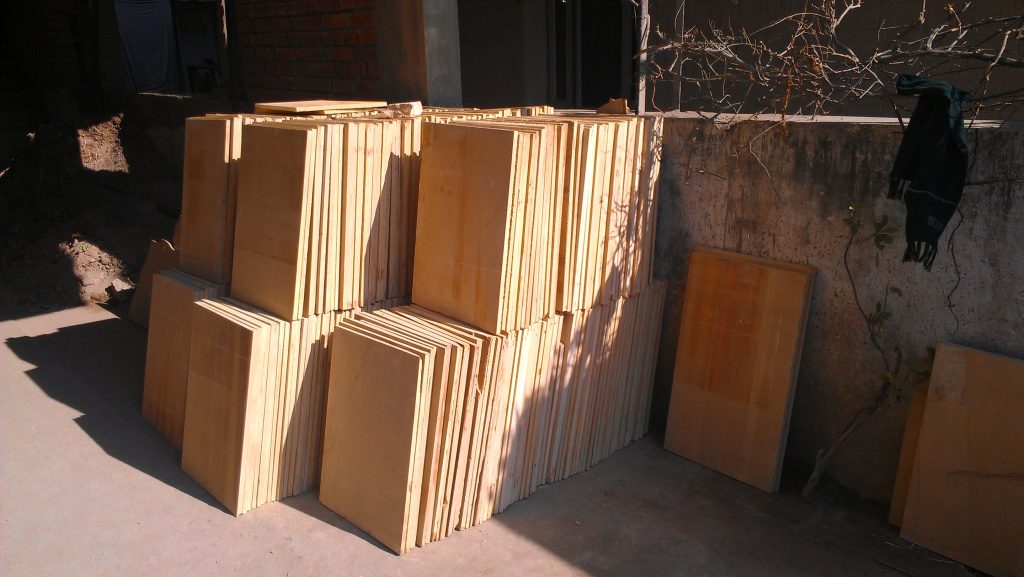 (Delivered stone – each piece needed to be cut and squared on site)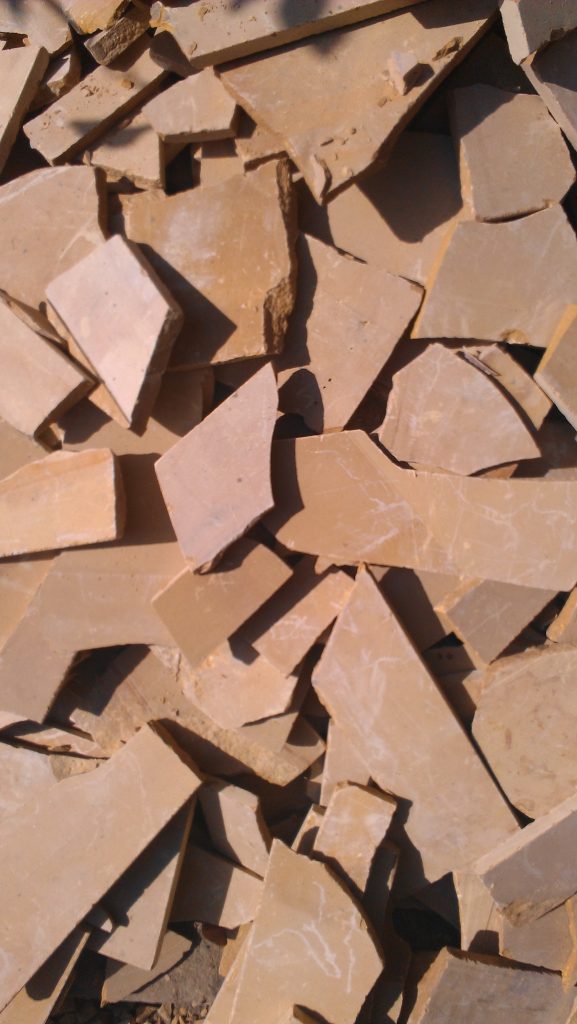 (Rubble pile, tuned into mosaic)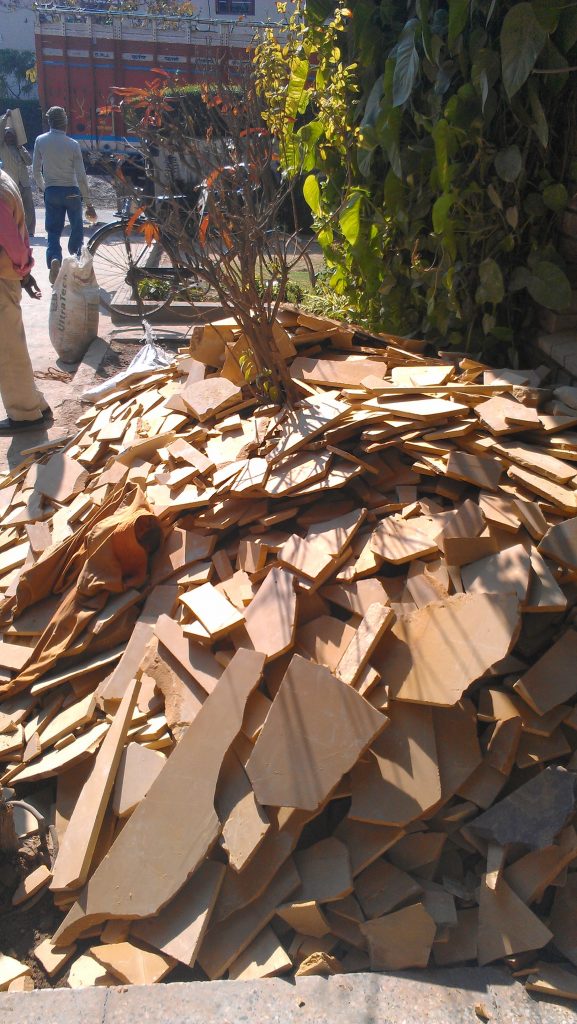 (And the mosaic below, pre-grout)
(Grouted and polished below)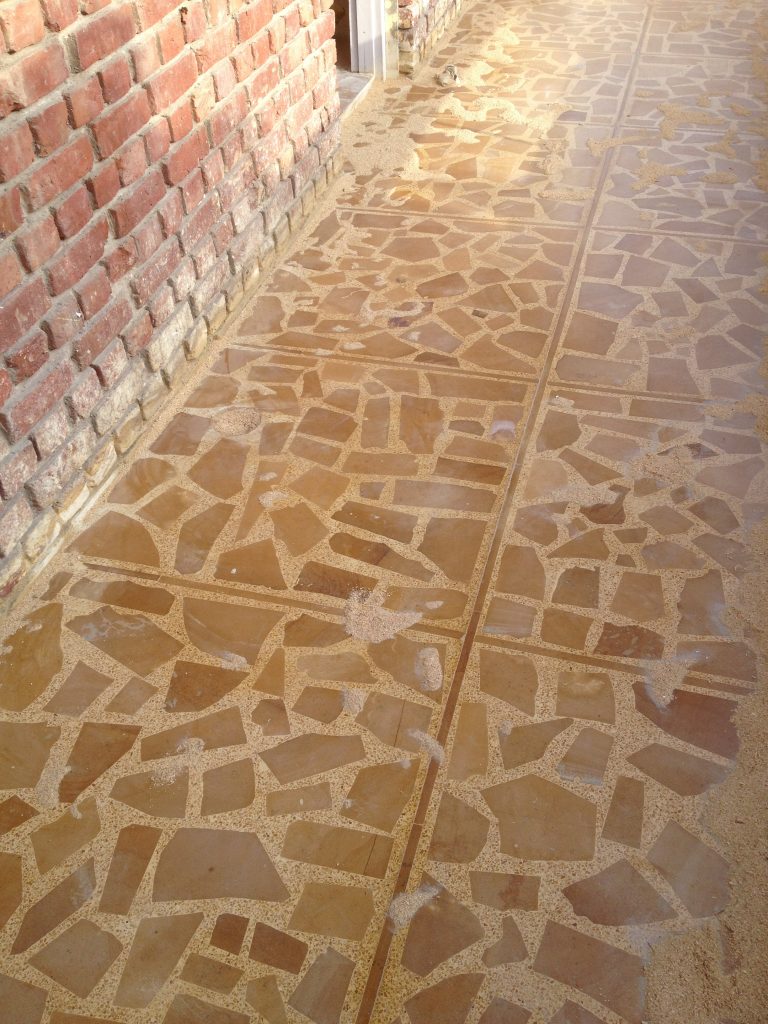 Exporting our wood frame construction to India isn't in the cards or in the near future, but there's no reason not to try a little India construction technique here at home.
More construction tales from India forthcoming….