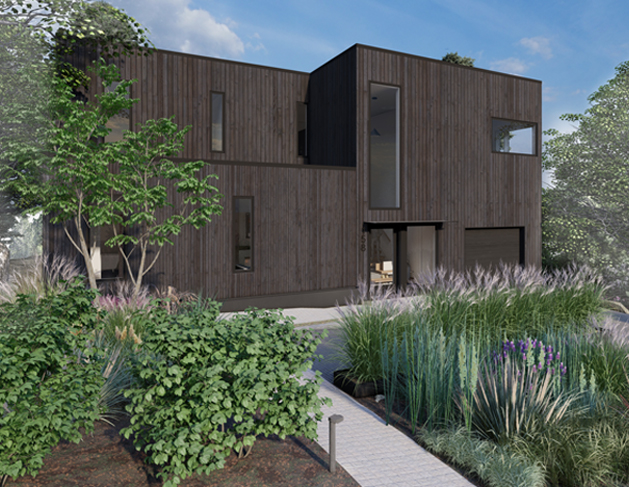 2022 Updates
CORVIDAE CO-OP BREAKS GROUND!
A REPLICABLE MODEL FOR HOMEOWNERSHIP IN SEATTLE

In order to buy a home in Seattle, you need to make 170% of the area median income. 
Six years ago, we started thinking about a kind of project that could accomplish the things we care about: easier access to homeownership, in single-family neighborhoods, for people making less than the area median income. 
In Seattle, inequitable access to home ownership due to redlining, housing and employment discrimination and predatory practices in real estate and banking has been especially poignant on the south end of the city. 
Corvidae Co-op is in the heart of South Seattle, and is offering homeownership to people who otherwise see no feasible way to purchase a home in their community. This project is seeking homeowners from Rainier Valley through the City of Seattle's Affirmative Marketing & Community Preference policy.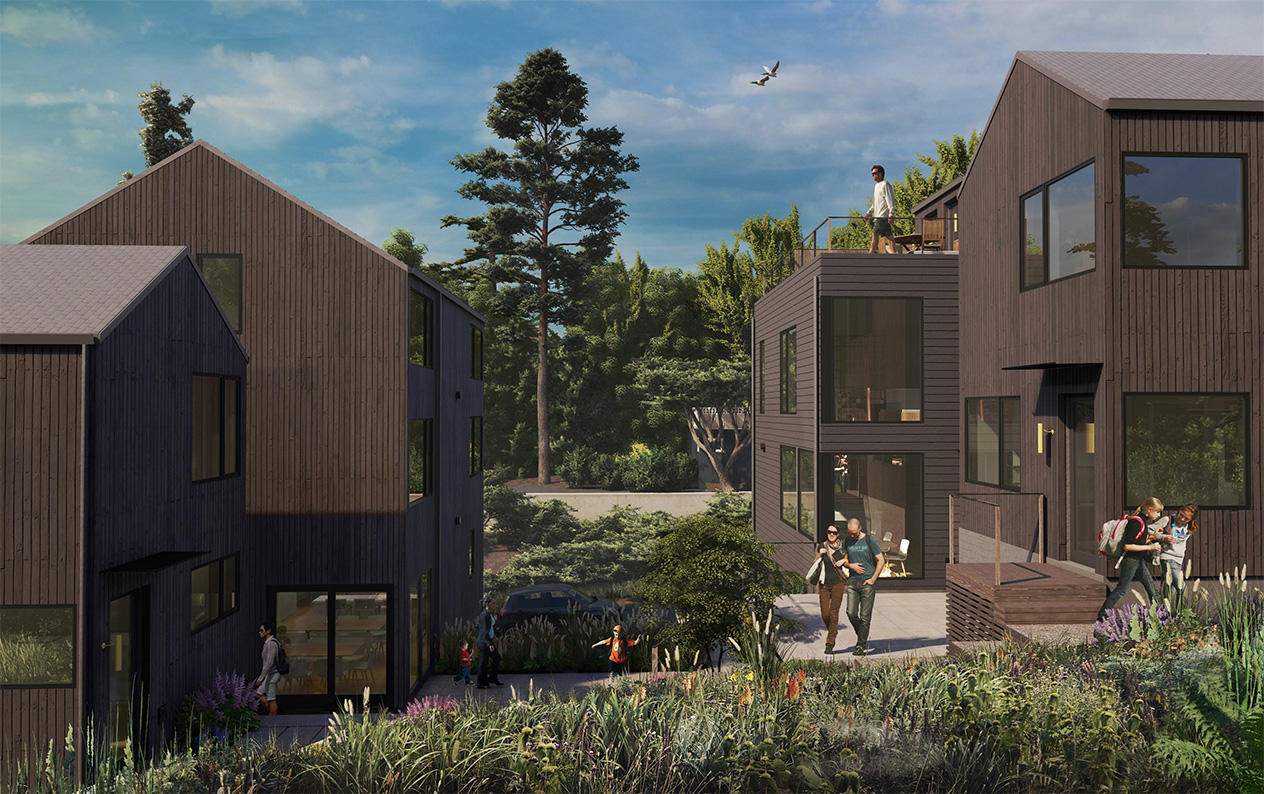 This project took a lot of innovation; banks don't like to finance co-ops, or other non-traditional home financing structures.  Achieving affordability within a single-family neighborhood took architectural typology innovation, especially given our ambition to design a replicable model that can contribute to housing justice. Designing a financing structure that could make it all work, our co-developers at Frolic were essential to this project. 
We're so grateful the ground has been broken and the walls are coming up—it's really happening! Now is the time to celebrate and work our way through construction.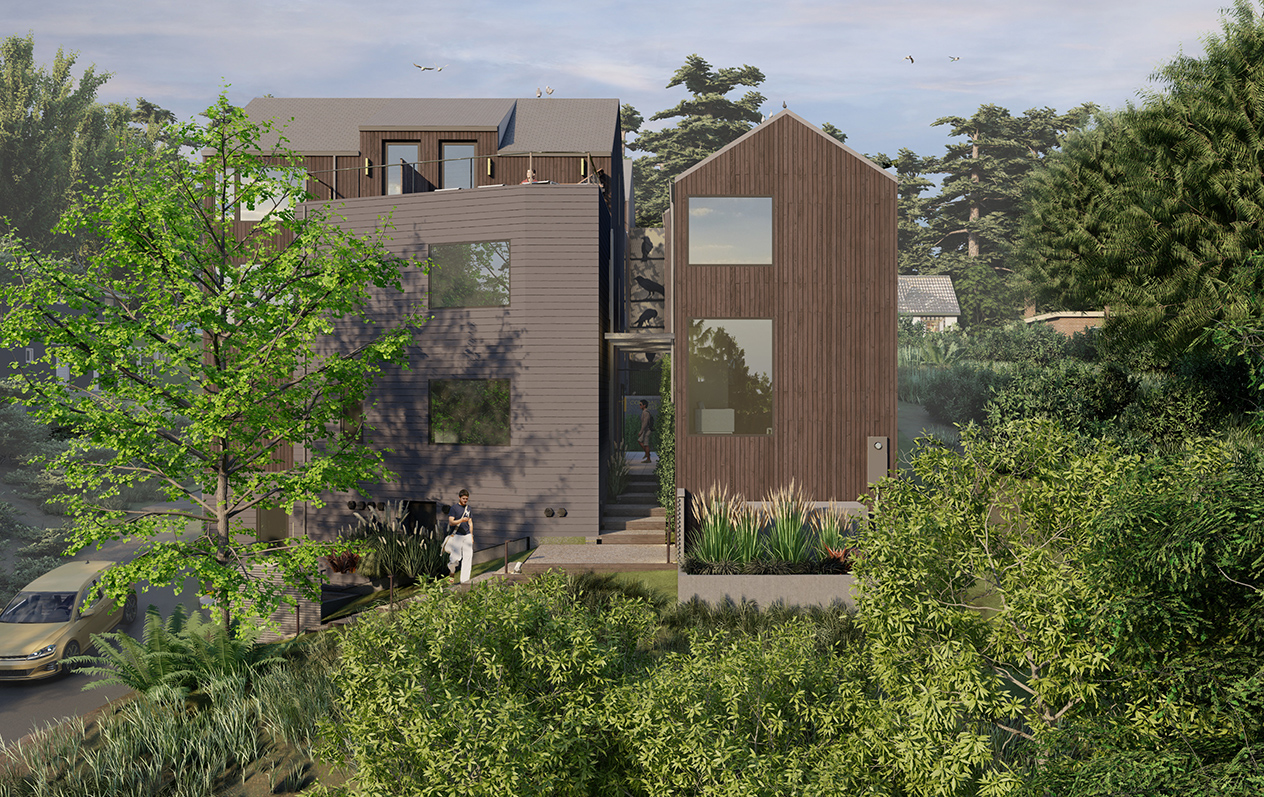 So how does it work? These are the Corvidae Co-op principles. 
Creative use of the zoning code to generate 10 residences on two parcels
Significantly reduce purchase price as compared to the average cost of a home in Seattle
Shared-equity co-op structure designed to balance individual equity growth with shared equity
Co-op to self-fund maintenance and improvements over time
Shared central courtyard, common kitchens/dining areas and a guest room that allows for communal meals & gatherings
Project site intentionally selected near a light rail station to promote the use of mass transit
Project can be replicated across hundreds of single-family lots throughout Seattle
Project Team
Architect: Allied8
Co-Developers: Allied8 and Frolic
Partners: UrbanBlack, Habitat for HumanitySKC, City of Seattle
Builders: Green Canopy Node, Epperstone Homes
Lenders: 1st Security Bank, Rainier Valley CDF, LEAF Fund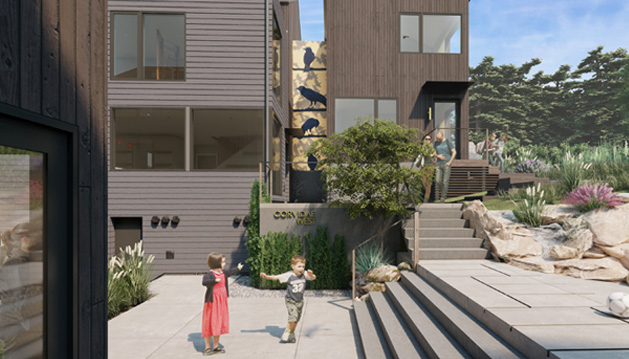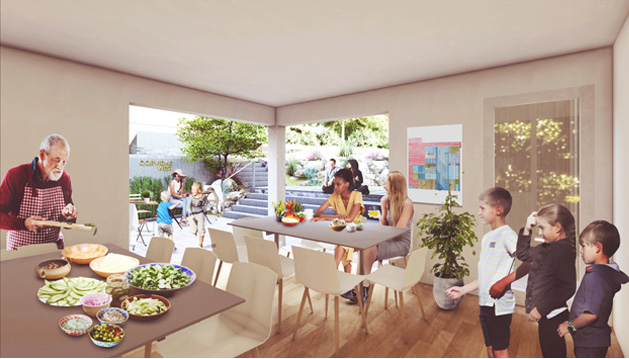 - Stefan, Barbara, Jessica, Hannah, Steve and Leah